Welcome!
Click on Picture Below for Star Promotional Video Welcome to Star Promotional Products. We work hard, helping top companies build and enhance their corporate identities. Star Promotional Products has been helping customers over the past several years to fulfill all their promotional products needs by offering product guidance and insights into current marketing trends. We constantly search for new ideas, and new products to meet your needs, and we offer an endless selection of quality items with lower pricing and faster turnaround. Please feel free to check out the links section of our site for some of my favorite product lines. Remember if you need more information, a creative group to submit product ideas, or a quote on something you have already located, just call or e-mail us and you will be contacted without delay. Call Star Promotional Products at (936)321-2747 E-mail: Pat-Smith@Starpromotional.com Speak with a Promotional Products Specialist today
Featured Item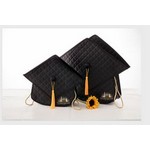 The Quilted Grad Bag - 13"x15"
Luxury Quilted Graduation Bag. The Grad Bag is a magnificent bag option for a school function event,college party celebration and educational fundraiser projects! It is the real bag with the real genu...